My Favorite movie type has been Horror for most of my life. I also enjoy Comedy, Drama, Sci-fi, Suspense, and the occasional Action movie. I don't care for Westerns though. Vampire movies are by far my favorite Horror Genre. I'll list some of my favorites here. And if I feel like it I might add pictures of the movie such as the jackets and posters. Possibly even a description of the movie.
---
Antitrust - Starring Tim Robbins.


A story about a Computer Programmer that has a small business with some friends creating software that is 'Open Source' (IE Free to all). Tim Robbins plays Gary Winston creater of the Mega-Corporation NURV. Gary self proclaims to be better than Bill Gates and his company INTEL. There is a lot of betrayal and 'Anti-trust' in this movie. Lies and deception will either cripple our hero, or make him stronger.
NURV - Never Underestimate Radical Vision
---
Monsters, Inc. - Starring Voices: John Goodman and Billy Crystal.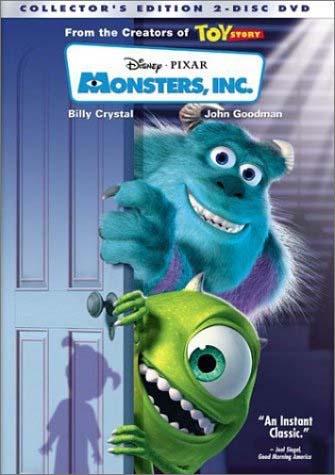 Pixar Animation featuring Two Monsters working to scare your children in order to harness the power of their screams. In the monster world there is propaganda that says that the touch of a human child will kill a monster. There are monsters that work for the Scream Factory that want to increase the amount of Scream intake from each child. Although increasing the scream would drain a child of all energy. Now that I think of it, this movie is kinda morbid.... Still a great movie. Plus you can watch it over and over again.
---
Dogma - Starring Matt Damon, Ben Affleck, Linda Forentino, Salma Hayek, Jason Lee, Jason Mewes, Alan Rickman & Chris Rock.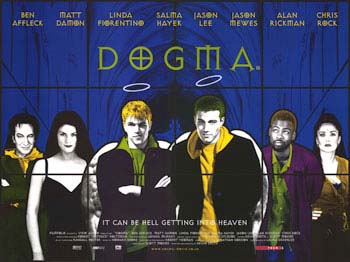 Dogma is a very interesting movie involving two Angels (Matt Damon & Ben Affleck) that are trying to get back into Heaven after having been kicked out long ago by God. They must travel from Wisconsin to New Jersey,

where a Catholic church is revealing its new "Buddy Christ" statue and a new program called "Catholicism Wow!" Due to Cathlocism Wow! an entry way that forgives all sins for those that pass through its archway will be instated. If the angels' sins are forgiven then they can die and return to Heaven as unmarked souls. If the Angels do return to Heaven though, then they will have reversed God's Will and the Universe will shatter.
The Last Scion (Linda Fiorentino as Bethany) must stop the Angels from entering the Archway. She is accompanied by two "Prophets" by the names of Jay (Jason Mewes) and Silent Bob (Kevin Smith - Writer, director), and the disgruntled and outspoken Rufus (Chris Rock) who is the 13th apostle.
This is a very cool movie. Kevin Smith has several other movies as well that are entitled "Jay and Silent Bob Strike Back", "MallRats", and "Chasing Amy" Check them out as well.
---
Jay and Silent Bob Strike Back

---
Goodwill Hunting - Starring Matt Damon, Ben Affleck & Robin Williams.

---
100 Girls

---
8 Mile - Starring Eminem & Brittany Murphy

---
The Forsaken - Brian Fehr? look up movie.
Great movie from Columbia/Tristar Studios. This movie has several bad reviews, personally I can't wait for the sequel.



---
Favorite Actors:
Rowan Atkinson - Best known as Mr. Bean. He's been starring in several movies as of late. Including a new Theatrical release entitled Johnny English. Rowan was also known as Black Adder the third on the British Broadcasting Company (BBC).
Bruce Willis - Die Hard to Armageddon
Chris Rock - Bad Company
Robin Williams